Shopping Cart
Your Cart is Empty
There was an error with PayPal
Click here to try again
Thank you for your business!
You should be receiving an order confirmation from Paypal shortly.
Exit Shopping Cart
Hidden Gardens at Victoria Park
Fort Lauderdale Vacation Rentals
| | |
| --- | --- |
| Posted on April 18, 2015 at 8:50 AM | |

Every now and again, one does get the sniffles. In the event that you might want to see a doctor, but don't need to go to the emergency room, the CVS up on Sunrise Blvd, next to the Galleria Mall, has a great new walk-in clinic. They have doctors on site who can write you a prescription and they have privat...
Read Full Post »
| | |
| --- | --- |
| Posted on January 19, 2015 at 11:15 AM | |
UPDATED: We are finishing up our 3rd year of business at Hidden Gardens!!! Many thanks to our past guests for making it a great success.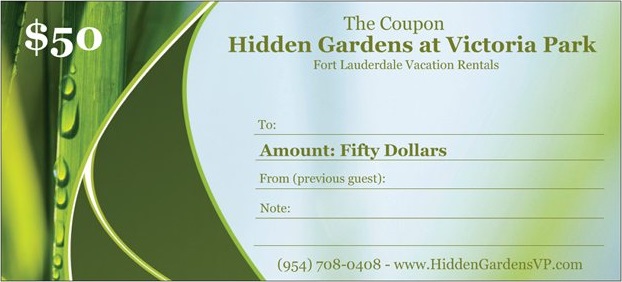 In appreciation, we're now giving $50 OFF to all our past guests who return to Hidden Gardens for another stay. In addition, there are no limits to referrals. In other words, if you refer 2 people that ma...
Read Full Post »
| | |
| --- | --- |
| Posted on November 5, 2014 at 4:30 PM | |
HomeAway has rolled out their new 'Hospitality App.'
The App can be useful and includes a lot of information about your reservation at Hidden Gardens. This is a new feature, so please bear with us while it is updated by HomeAway.... You can always simply refer to our website, here, for complete and up-to-date information.
Read Full Post »
| | |
| --- | --- |
| Posted on July 18, 2014 at 10:35 AM | |

 The Fresh Market is a newer supermarket to Fort Lauderdale and I have to say, I find myself going there more and more. It's very clean and well organized, but what really sets it apart is the excellent selection of prepared meals. Always 10 different freshly made salads ready to go, fresh sushi...
Read Full Post »
| | |
| --- | --- |
| Posted on June 22, 2014 at 10:35 AM | |
 You arrive to your new place, put your bags away, sit down and relax. Now, what's on TV? Rather than fumble through the 1000 or so channels available on Comcast, I've listed the High-Definition channels we get below for a little easier access. Relax and watch a movie on HBO (Ch.416 and Ch.480-485) or listen to some music, from Jazz to Blues to Reggae (on Ch.800-843). For all the other channels... you're on your own.
Read Full Post »
| | |
| --- | --- |
| Posted on May 15, 2014 at 7:45 AM | |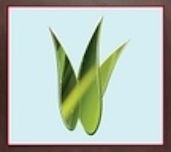 ...gardener... I wear a lot of hats at Hidden Gardens and I've spent lots of time designing and polishing our website. 
 Over the past few days, I've updated a few things and created our new '
Read Full Post »
| | |
| --- | --- |
| Posted on May 8, 2014 at 6:30 PM | |
I love delivery. If I'm exhausted and get to sit down to a 5 star meal, while flicking through the TV channels, and not hashing out a meal in the kitchen... I feel I've cheated the system somehow and won. It is a guilty pleasure for sure. Delivery Dudes have picked up on this sentiment, so now I can eat out just about anywhere and never le...
Read Full Post »
| | |
| --- | --- |
| Posted on April 9, 2014 at 7:40 AM | |

 Once you've painted the town red, it might be a good night for Dinner and a Movie at home. Just like home, our apartments are equipped with HDTV's and DVD players, so while you're picking up some groceries at the
Read Full Post »
| | |
| --- | --- |
| Posted on March 13, 2014 at 8:35 PM | |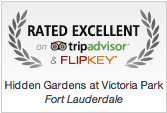 Today I received notification that both our apartments at Hidden Gardens have received awards from FlipKey (a TripAdvisor company). Thanks so very much Flipkey! The first we ...
Read Full Post »
/